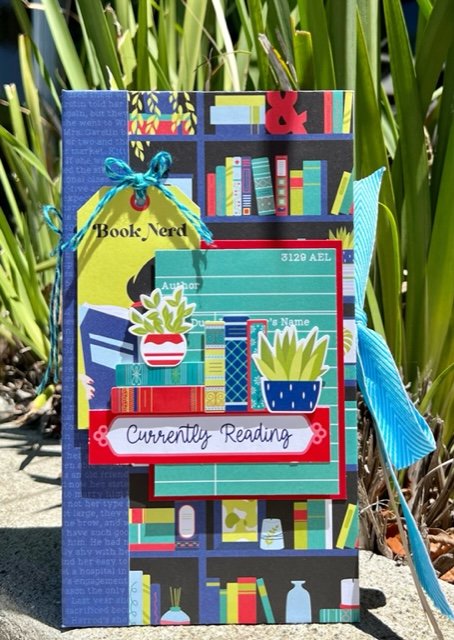 Video Link:
https://youtu.be/wSCMaPU0Pdk

This class will be held in person at It's All About the Scrapbook! A recording of the class will be available for those that cannot attend or would like to purchase a kit. Shipping is an additional $8 – please contact Nikki directly for more information (email – nicolesher@gmail.com)
"We lose ourselves in books… we find ourselves there, too." Reading has always been one of my favorite pastimes. And when Photoplay released their "Notting Hill" Collection filled with famous quotes, puns and all things reading, I just knew I had to make an album with it! In this made from scratch album, you will have room to document all your favorite novels as well as any book club photos, favorite bookstores and more! Plus, this album also holds a spiral notebook that you can take with you to your next book club meeting, use to take notes while reading and lots more fun things! If you or someone you know loves reading, this is the perfect album and would make a wonderful gift!
Can't make it to class? Not to worry! There will be a recording of class available the day after class! The video will include a step by step tutorial for building the album and adding the patterned paper. Embellishments are done at your own pace. Video is available to all class attendees and kit purchasers. Re-watch, pause, rewind and stop as many times as you need to!
Here's how it will work –
- This class will be held in person at It's All About the Scrapbook. There will also be a step by step video available the day after class to all students that will include the step-by-step instructions on how to make the project.
- Shipping is NOT included in the price of the class. If you would like your kit shipped, please contact Nikki directly and she will charge you the $8 shipping fee and confirm your mailing address. If you purchase multiple kits, Nikki will happily combine the shipping and refund you any extra charges via PayPal or Venmo. Nikki's email – nicolesher@gmail.com
How do I order?
Simple – Register through It's All About the Scrapbook! If you would like your kit shipped, please contact Nikki! Email – nicolesher@gmail.com
Message Nikki with any other questions.

*No cancellations, exchanges or refunds. If you are unable to attend the class, your kit will be waiting for you.
| | |
| --- | --- |
| Requirements: | Bring your basic tool kit and the following: 12x12 paper trimmer, score board, bone folder, scissors, favorite wet and dry adhesive including 3/8? and ?? score tape, foam tape, tweezers, scissors, crop-a-dile or 3/8? hole punch, corner rounder, ruler and pencil. |
| Instructor: | Nikki Sher |