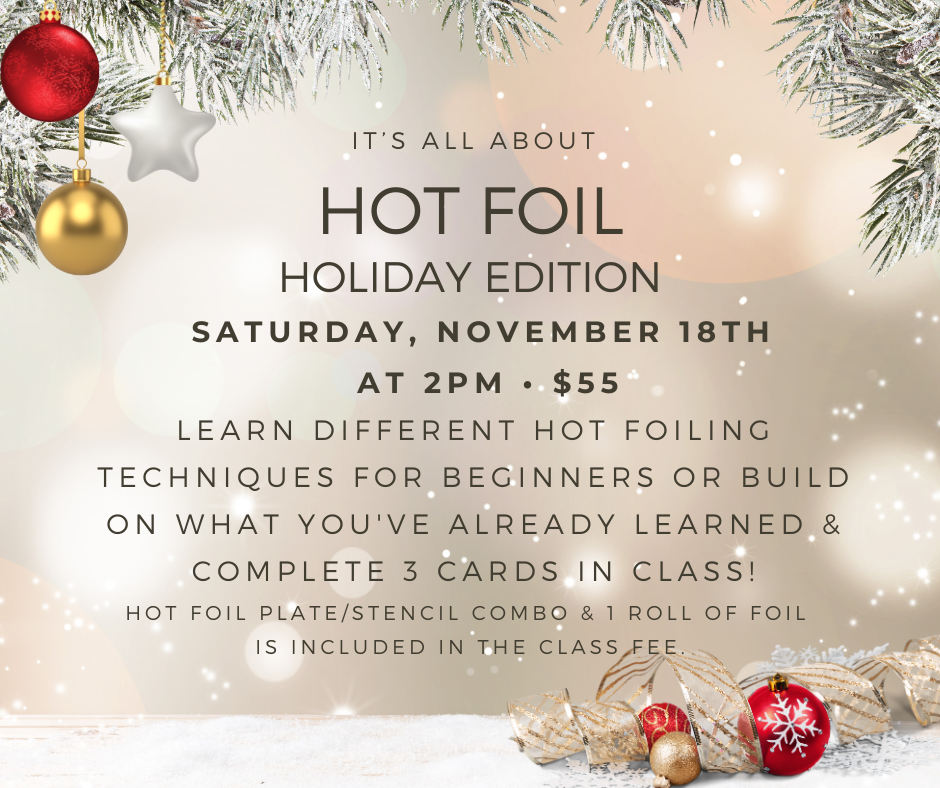 It's All About the Hot Foil – Holiday Edition with Nikki Sher
How To, Demonstrations & card class utilizing all you've learned!
Saturday, November 18th at 2PM
$55
*Class Fee includes a Hot Foil Plate/Stencil Combo, 1 roll of foil, paper and embellishments to make 3 cards.
In person ONLY at It's All About the Scrapbook!

November's Theme – Happy Holidays!
New to Hot Foiling? A seasoned pro looking to learn some fun tips and techniques? Then join Nikki for "It's All About the Hot Foil" Class! In this class we will spend the first hour going over the difference between foils, machines, what kind of materials you will need and various demonstrations using hot foiling products. After that we will start working with your hot foil machine! Starting with unboxing of your machine, moving through set up, how to use and then making 3 cards! Every class will build on what we learned from the class before it adding new techniques every time! A Hot Foil Plate/Die Combo and 1 roll of foil will be included in your class kit to complete the cards. This is going to be a very fun informative and creative class that you won't want to miss!
*Please Note – You must bring a Hot Foil machine and Compatible Die Cut Machine that works with your Hot Foil Machine to participate in this class (you can share with a friend if you would like but I recommend maximum 2 people per machine).
Due to the nature of this class, it will only be available in person.
What you will need for class -

Basic tool kit including:
Hot Foil Machine and Compatible Die Cut Machine that works with your Hot Foil Machine.
o If you are using the Spellbinders Hot Foil Glimmer System, a Platinum 6 or Sizzix Big Shot works great! Please let me know prior to class if you need help figuring out if your die cut machine is compatible with the Hot Foil Glimmer System.
Paper trimmer

Scoreboard & bone folder

Scissors

Favorite wet and dry adhesive

Foam tape/squares

Tweezers

Scissors

Extension cord

Pen/Pencil to take notes

All your questions!
There are a few additional items I like to have when Hot Foiling. These are not necessary for class but I will be demoing with them and explaining why I like them. If you have them, please feel free to bring them with you!
Spellbinders Quick Trimmer

Spellbinders Best Ever Craft Tape

Mono Sand Eraser
Message me with any other questions and I hope to see you in class!
** Due to allergies of our employees and customers, we ask that you refrain from wearing any scented oils, perfumes, lotions or any other fragrant products to our classes, workshops and shopping. Thank you. **
*** No cancellations, exchanges or refunds. If you are unable to attend the class you will receive a class kit (does not include shared supplies such as inks, paints, stencils & other mediums). Teacher and/or store are not responsible for USPS shipping delays or errors. Three person minimum required for in person classes to be held. If minimum is not met, students will receive their class kits with video instruction on how to complete the project. ***